Below are just some of the testimonials from our students and parents.
But first, we would like to highlight our first class of Rosetta students, way back in 2013.  It wasn't a big group, but they affirmed what was then just a fledgling idea: good things will happen if you attract the smartest and most ambitious people you can find, put them into the same room, and challenge them with everything science has to offer.
We learned a lot from this group.  Their valuable contribution to those first two camps informed all of our future operations, and some of them even worked for us as teaching assistants for several years.  They have since moved on to further endeavors in science and we couldn't be more proud of their accomplishments. We are grateful to have played a small role in the process and excited to one day call them our colleagues.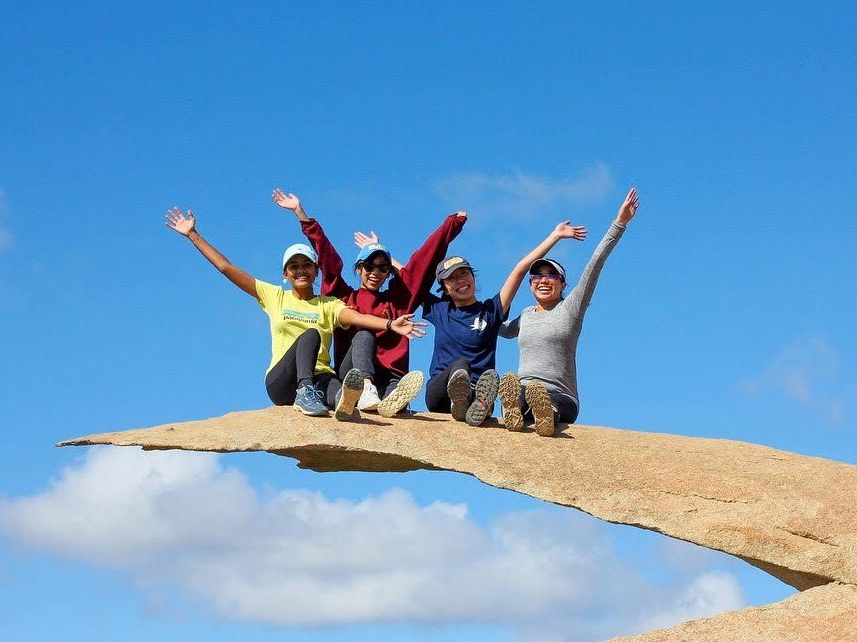 Students from the Class of 2013 having some fun
Here is a very brief description of what some of them have been doing since 2013:
Rati (former TA): in medical school
Kelly (former TA): in medical school
Jasmine (former TA): BS, MS, in medical school
Priyanka (former TA): clinical research at Harvard, applying to medical school
Shyam (former TA): in medical school
Sharon: Stanford pre-med
Erick: Baylor BS/MD program
Abhilash: in medical school
Jenny: BS/MS, high school chemistry teacher
Emily: in dental school
Pranati: in medical school
Celine: in pharmacy school
Rahja: AS Biology, AA Social and Behavioral Sciences.  Planning on a BS+PhD in Biology next
Janelle: PhD Candidate in Clinical Psychology
Mandy: BS Biology, starting graduate school next
Eduardo: PhD candidate in Electrical and Computer Engineering (researching Multifocus Microscopy)
Jane: in medical school
Kristina: in veterinary medical school
Teresa: lab tech at Cal Tech, applying to medical school
Alex: finishing MS in Applied Physics at Stanford, planning on a PhD next
Vivian: in law school
Whitney: pharmacist
Carolina: in medical school
"I was really nervous about sending Alexis to the camp, but she is loving it! She's enjoying every day!! And now she wants to be a neurologist."
"I just wanted to say thank you for the workshop that Madeline attended at UCSD. She had a great time and learned so much. It was exactly what I was hoping it might be."
"Our son met some incredible friends and learned that he can do a great job even when he hadn't taken biology. He was very proud of this achievement."
"Clear logistics, safe campus, holistic program!"
"The camp was very well organized. Moving in and out was simple and straightforward. Our son was thrilled with the level of detail in the instruction and feels he has really understood the causes as well as the research areas being pursued to control/cure cancer. Overall a great experience."
"As an international student, the airport transfers, residential facilities and food options made the adjustment much easier. Every detail required for the students was diligently provided."
"The content was great. She learned a great deal about brain function and diseases. And she really enjoyed the TA's. All around it was a great program that I will recommend to others."
"Michelle said it was a terrific experience and a very well developed program that she learned and benefitted from. She rated it very highly and we will have her younger sister apply to the program this coming summer."
"Difficult but informative. My child really liked it!!"
"She thought the teacher was exceptional and shared a lot of depth in the area where she has completed her PhD work."
"Gave her a quality program, independence, and a taste of what college will be like. Seriously the best experience of her life. She came away with everything positive that college has to offer. She loved everything about it."
"Good selection of similar-background and academic-oriented students in the camp."
"My daughter's bonding experience with other students from around the country and the exposure to cancer research. She had a fantastic experience."
"I have no complaints, my child came back more mature, made friends that he has stayed in contact with it was great! Thank you."
"I thought the institute provided the students with a real college experience of how it'd be to live in a college dorm."
"My daughter always sounded happy over the phone even though she was so far away from home and us. She liked the food, made many new friends, enjoyed the classes, labs and outings. It gave us huge peace of mind, knowing she was in a safe environment, having fun and learning new things."
"I think it gave them enough freedom to experience responsibility and maturity but they were still supervised and protected. As a mother, it gave me confidence that I can send my child away to college and feel that he is mature enough to do so."
"My child found the material very challenging, but enjoyed the challenge."
"My son loved being immersed in a learning environment with other highly gifted students who all are excited about the same topics. Also, the diversity of the student mix- not just racial diversity but geographic (students from different states and several countries)."
"My daughter was a happy camper 🙂 Not only did she thoroughly enjoy the lectures and labs but she also had great time with her peers. She made new friends and loved the TAs."
"My daughter loved the challenge of learning more advanced science concepts and terminology. She was so excited about all of the different topics that were covered and being immersed in the environment with so many other like minded students. I think she will be bored in her HS science class this year."
"I just wanted to thank you so much for the wonderful experience that my son had over these last couple of weeks; I think that your program has been an invaluable for him.  Also, thank you for taking him to the doctor and pharmacy and helping make that process so smooth and reassuring for us parents."
"I learned a lot during class and feel really happy about all I've learned (still have my notebook) and think that lab was the most interesting part."
"This was my first ever summer camp and it couldn't have gone better. Not only did it open my eyes to a field of science I want to pursue, but it also gave me a chance to explore the campus of my dream school. All of the kids were so nice and the cancer class turned into one big family after 2 days which was amazing. I still talk to some of the people I meet through the camp. Overall, it was one of the greatest experiences of my life."
"Overall, this was an amazing program and I would definitely recommend it to others."
"What a wonderful experience! Thanks so much!"
"This experience has made me more excited about pursuing a career in medicine/research."
"My experience was overall very challenging (in a good way). I learned an extreme amount of new information that had never been presented to me in either AP Bio or H Bio."
"I really enjoyed the program and feel I have found a real passion in molecular biology."
"Please consider making the camp more than 2 weeks long because this has been one of the best experiences of my life: I've met lifelong friends (we still have our group chat!) and learned a lot."
"Overall, it was a great time and I really enjoyed the lectures and would like to tell you that you did a very nice job teaching and would like to thank you for a great time."
"Overall, I'm very glad I went to this camp as it taught me so much in such little time. I really enjoyed the lectures as well as the opportunities to work with real lab materials, and after taking this class, I now have a serious interest in becoming a scientist and pursuing a career in cellular and molecular biology. Thank you for everything."
"The genetic engineering labs were a blast. I loved how there was no time limit really to this and all of the students were motivated. I am enriched from the great experience :)."
"One of the best experiences I have ever had."
"I had a wonderful time!"
"The overall experience was incredible and it was one I would recommend to many other people."
"This camp was a lot of fun. The teacher was amazing and the material was interesting. I love the living situation."
"I was really glad that we were able to use such advanced lab technology and I found the course material very intriguing. It was such a privilege to learn about so many things in such a short amount of time without the pressure of grades."
"This experience has helped me make the decision to go into oncology."
"I really enjoyed it a lot. I learned a lot of information and will probably get to apply it in my AP bio class, which I'm excited about. I also got to meet a lot of people who are interested in similar areas as I am which was a great foundation for building relationships. I was able to make friendships that I think will last for a long time. Overall this program was a very worthwhile experience."
"I felt really inspired to pursue cancer research as part of my future career. I enjoyed doing hands-on procedures in the lab and really digging into cancer in the molecular level."
"The lectures were right on point. The information built on itself and it was relayed very well."
"I was going through my 50+ pages of notes that I took during the two weeks.  I wanted to reach out and thank you both for a very insightful and fun camp. Since I was ten, I have been interested in the study of the brain and you have reinforced my decision to pursue my interest in the field."